I haven't been thrifting very much lately. The shop that used to be my favorite has started pricing things way too high, so I only ever go to the Goodwill Outlet. And I just can't handle that every day! Like I mentioned a few days ago, I have always really loved Noah's Ark. The cute image with the giraffes is just the front cover of a vintage book, but I couldn't leave it behind! And check out how cute that mouse needle point is!
Have you ever read Maya Angelou's series of autobiographies? I Know Why The Caged Bird Sings is the first and most well known, but there are a bunch, and they are so good! She has lead a pretty incredible life! I love the cover of this edition!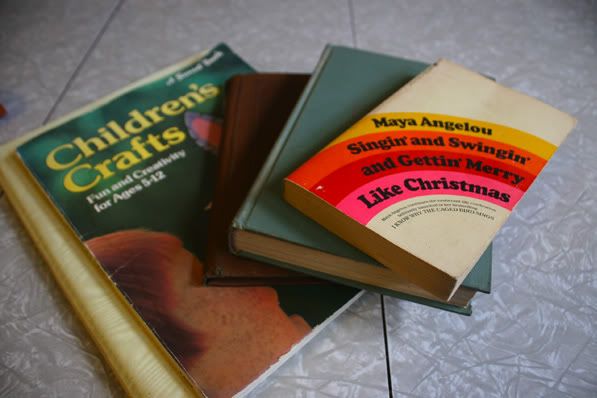 Could that rabbit puppet be any more terrifying? This craft book from the 1970's is pretty incredible! There are lots of strange crafts, and even a chapter on things to make using the "gifts of mama Earth." I need some little kids to craft with!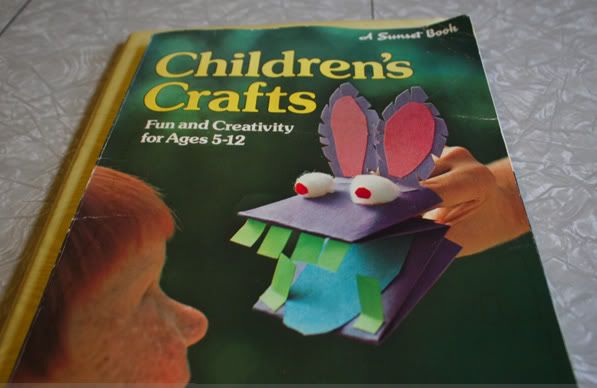 I picked up this daily reminder book because I love the layout of the pages inside, and it is still pretty full. But I really love the little message inside! Check it out:
"(Reverie) of an idle mind
Well-looks like this is just about the end, don't it? By the way, don't forgot to remind me to remember my resolution, promise?
1. Never make below a pass
2. Behave myself.
3. Get out of all my exams
4. ____________ There are exceptions to all rules (Just trying to be funny)
I really mean it. What???? OH-H-H-H----I knew it."
and then under the other pad it says
" I did better than I thought.
By the way I'm not loaning any pencils this year, like last, I think I must have supplies the whole school. I think I might save a small fortune in pencil money"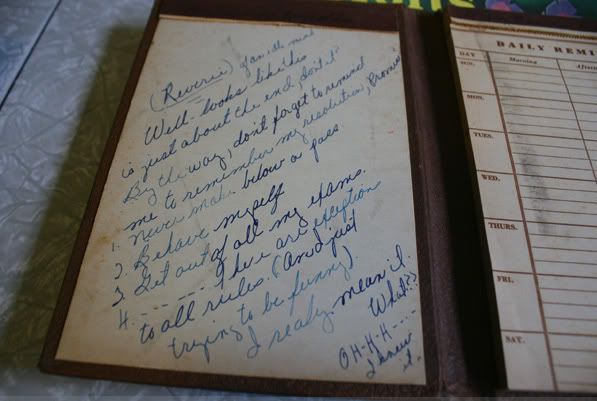 I'm really excited about this Hawaiian party book! One of my 30 before 30 goals is to plan a fancy dinner party, and I think I have my theme!
I love this tip. "If you are lucky enough to have more than one lei, wear them all happily and proudly, as the girl in the drawing is doing."
I will definately make this centerpiece! Complete with pipe cleaner palm trees! I have the perfect bamboo tray to use! There are tons of crazy recipes and games and things, so stay tuned!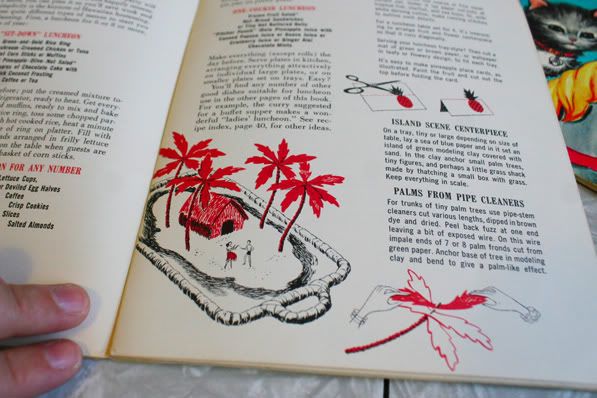 A few more things. Travis showed me the picture of the cats on the couch as a joke, but I love it! (Obviously). Another box purse with some hand painted mushrooms. I haven't carried one of these yet, but they are cute! The gremlin books have little records. I think we'll finally have a (working) record player soon, and I can't wait to listen to these!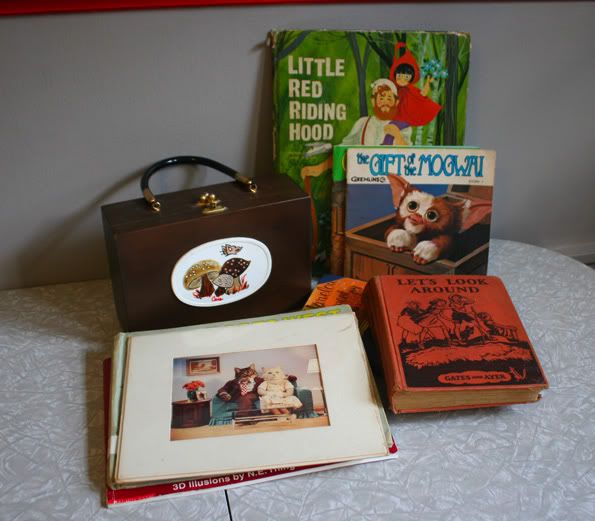 This little red riding head book is so freaking cute! I love her glasses! She looks like Harry Potter's little sister. And the wolf is adorable too.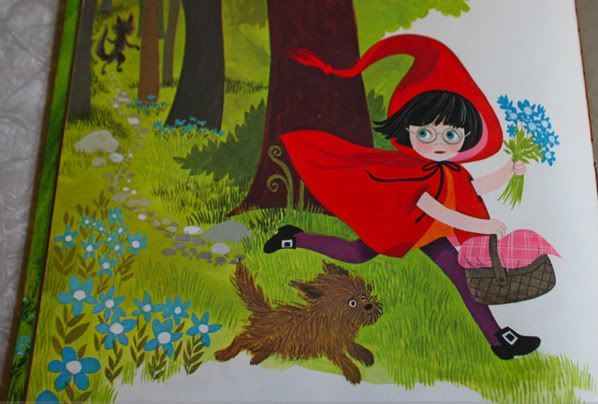 I also found this PERFECT burlap growth chart! I love the Australia theme!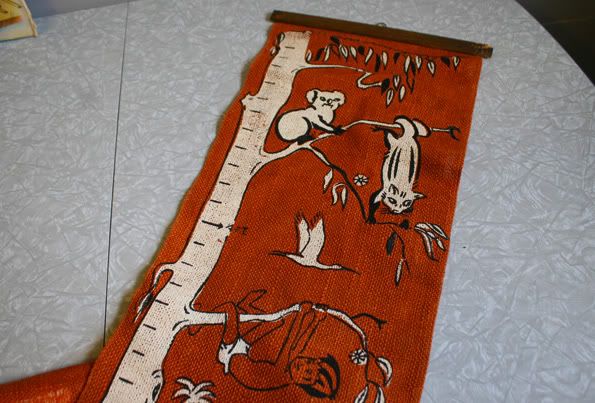 So gorgeous!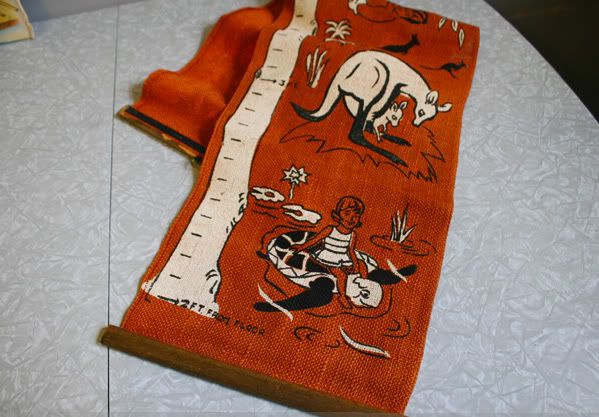 Travis found a Lite Brite and I asked if I could play with it before he put it up on ebay. I want to get the ET kit! I remember getting a Lite Brite for Christmas one year. I can still smell the burning plastic smell it makes when plugged in.
I also found this baby book, copyright 1960. The inside pages are perfect and none written on. The illustrations are so beautiful! I'm going to save it to give to a vintage loving friend when they have a baby. I love the colors on this family tree page:
And of course there is a poodle!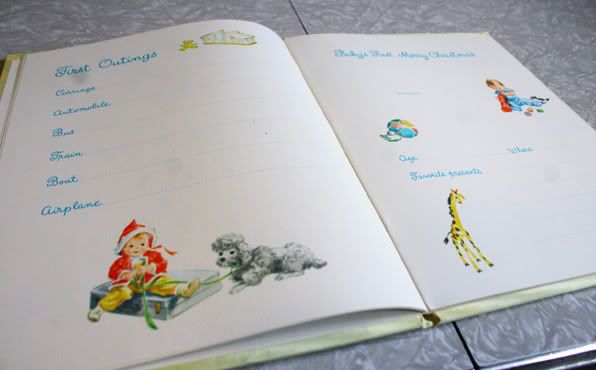 Last but not least, I had to include this because we NEVER find dvds in the cases at the outlet, much less a Disney dvd! And it works! The only time we ever found a dvd before was something lame, maybe City of Angels? Haha.
Have you found anything awesome lately? Are your local thrift stores pricing all the cool stuff to high?