Here we go, the last day of the sale! I don't know how people do all four days! After just one I was wiped out. We got up around 8:30 and went to Aretha Frankenstein's for breakfast. The service was terrible and weird but my pancakes were OFF THE HOOK! I don't know if they make them in a pan or what, but they were super thick and good! I should have asked for a smaller portion. I barely ate half! Yummmm it was so good.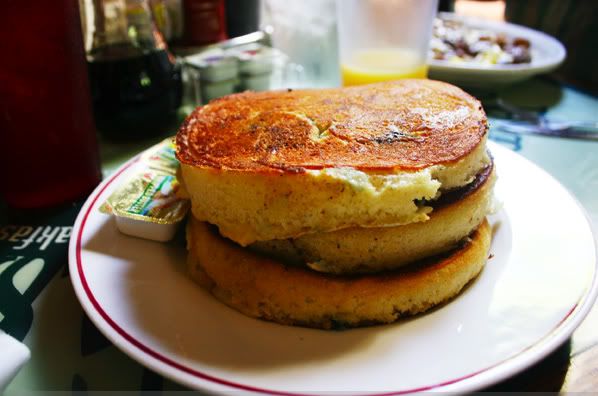 It was much less hot on Sunday. A few of the vendors had/were packing up, but there was still a ton of stuff to see. And lots of places had "free" or "half off" signs. We heard, "Just take it so I don't have to pack it up!" more than once.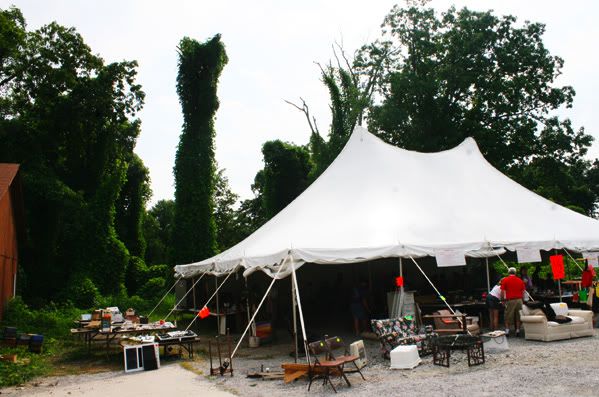 Look at that kudzu in the background!

I can't decide which brooch I like best in this photo. They were all at least 15 bucks though, and I'm a 5 dollar brooch kind of girl. That blue cat was tempting though.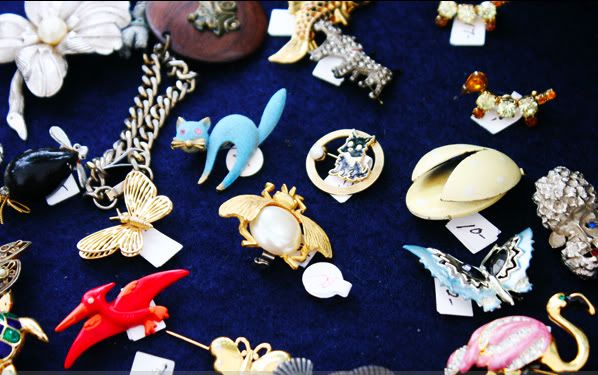 I saw so many pretty bottles, but what would I do with them? I almost bought a pretty striped NEHI bottle. I guess I could put flowers in it?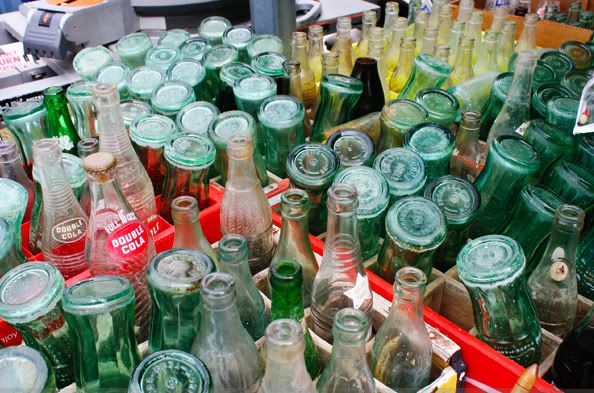 Another boston! This baby didn't move at all, even though I was snapping away.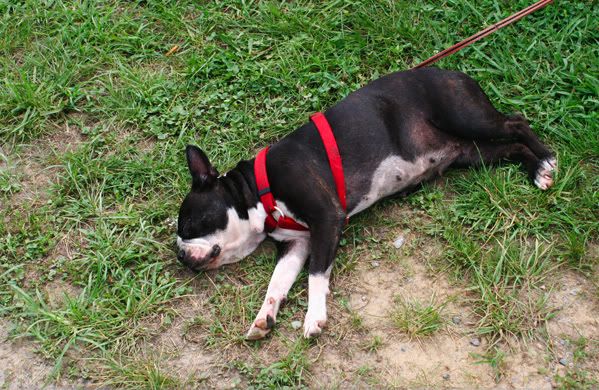 So cute.

I was excited to see this! I haven't added to my
salt and pepper collection
in a while. I think it is natural that as your collection grows, you get more picky. I couldn't believe some of the shakers that were left on this table! Lots were modern and boring, but there were quite a few made in Japan with cork stoppers and even a made in occupied Japan!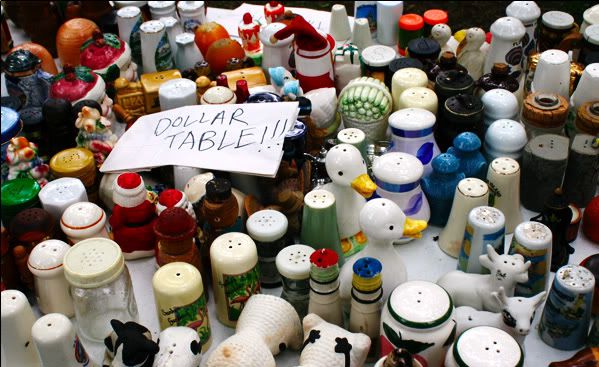 By this time we had been out for about two hours. We were up on Signal Mountain and I was trying to find a certain booth. Beca had been in this area the day before, and after I told her boyfriend Doug that I was on the lookout for a certain taxidermy animal he instagramed me a picture of exactly what I wanted! My only clue to its whereabouts were signal mountain, so we were stopping everywhere we saw taxidermy. I was feeling hopefully when we pulled into this field were lots of vendors were set up.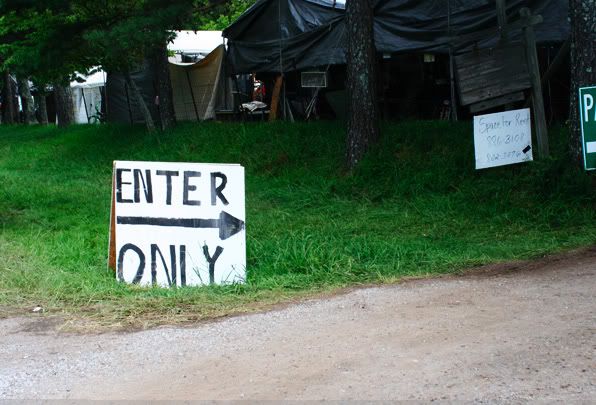 This guy had lots of great portraits! They were pricey though. This group of tents had lots of antique/vintage dealers who weren't interested in making deals.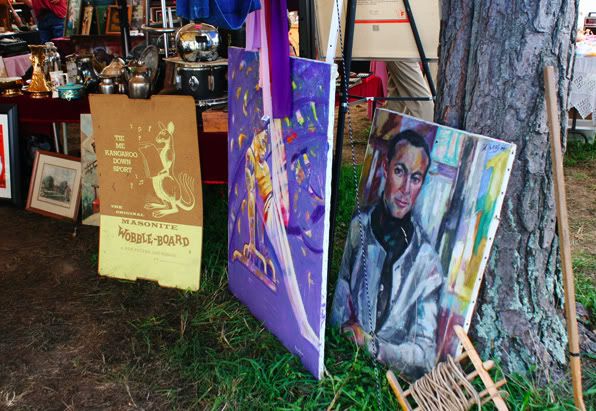 And then I found him! My squirrel! I have wanted one for YEARS, but never found the perfect one. Look at how BIG he is! And cute! He had a little felt vest on, but we immediately cut it off, and pulled the gun off. We're deciding on the perfect thing to put in his hand. Travis wants a wand.
Travis got so many comments walking around with this little dude! Most people thought he was cute, and kids wanted to pet him. One lady was making some really rude comments about the "dead animal" we were carrying, while stuffing a hamburger in her mouth. Ha! This little squirrel dude is going to be loved for many many years in this house. I still haven't picked a name. Nothing has seemed just right.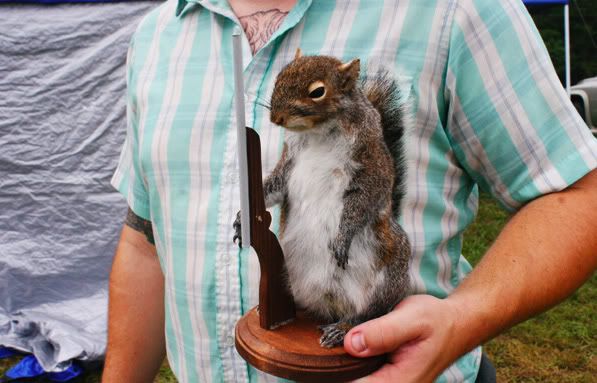 Look at how gorgeous! This would look so great as the focal point of a room.

To me this looked like someone had their face put on the Virgin Mary, and their kid's face on Jesus, haha! What a good idea.
A cute raccoon. That little tag on his head says "not for sale." The guy at this booth loved our squirrel.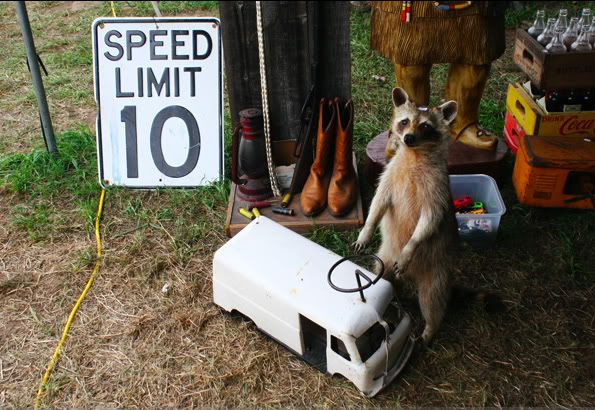 I was surprised by the lack of vintage Christmas stuff, so I was happy to find a lot in this booth!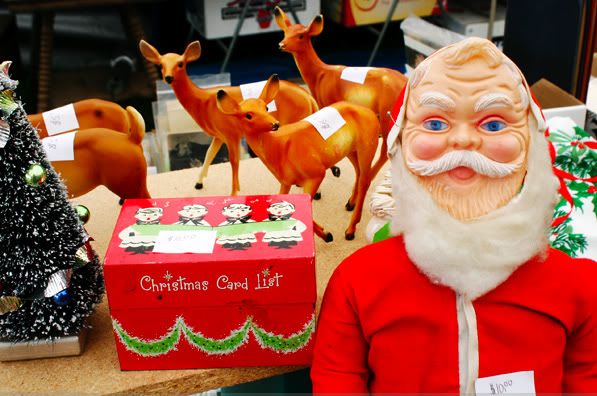 Look at this incredible thing! Travis said NO immediately, haha!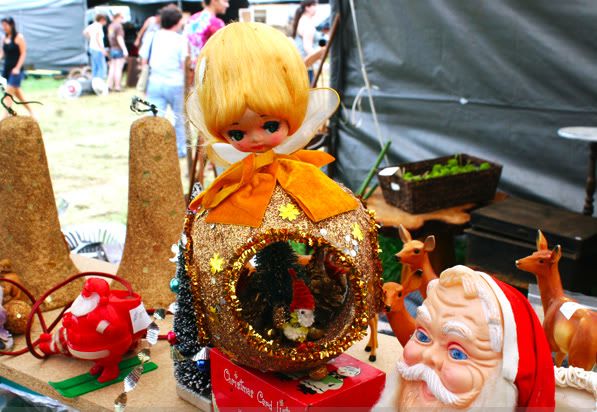 I think it has to be hand made. Her body is styrofoam, with a whole little gnome scene inside. After I took these pictures the ladies whose booth it was were really cute and asked why I took a picture. One woman said, "She asked me why I bought that when I did, and I told her that some people like that kind of thing! She thinks you took a picture because you were looking for the ugliest thing at the sale!"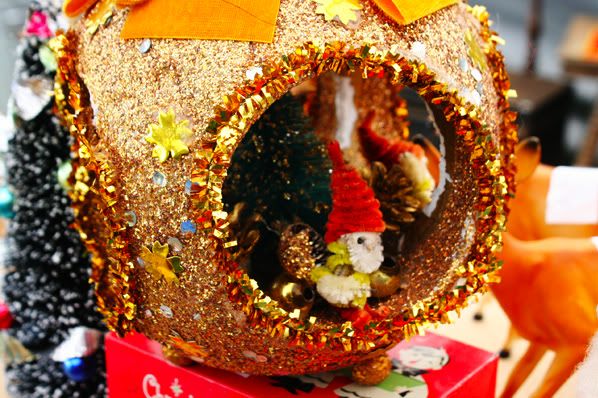 I think she was tickled that I loved it so much. I told her if Travis and I hadn't given each other veto power before the sale, she would have come home with us!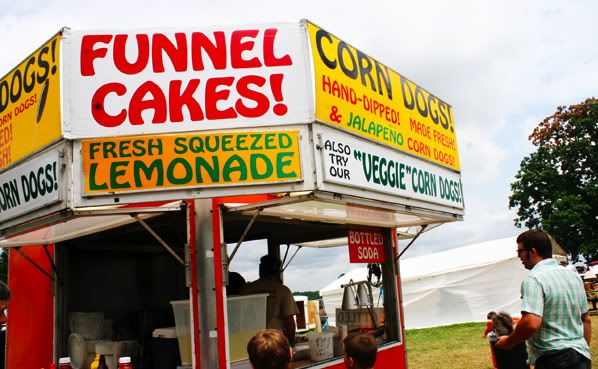 We were so excited to see that this stand offered veggie corn dogs! We had to get them of course, Travis had a jalapeno corn dog. There he is, making his order with our new squirrel friend.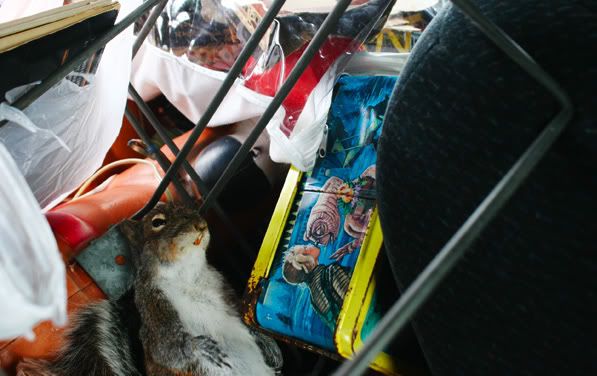 Once we got back in the car, and looked at everything piled up we decided that we were satisfied and it was time to head home. We hoped on the road, picked up Phyllis and Priscilla, then hang out on the couch the rest of the night. What a great weekend. I will definitely be back next year!