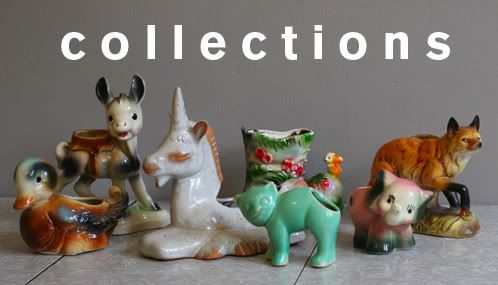 i love looking at the things that people collect, so i thought it would be fun to share my collections! First up, my salt and pepper shaker collection.
this is most of it. there are a few new shakers that aren't pictures, but my collection is mostly about vintage (and animals apparently.) I find it really easy to tell when shakers are vintage vs. modern but when i try to explain it i have a hard time. you can just tell by the way it is made. but if you flip them over you can find some easy clues: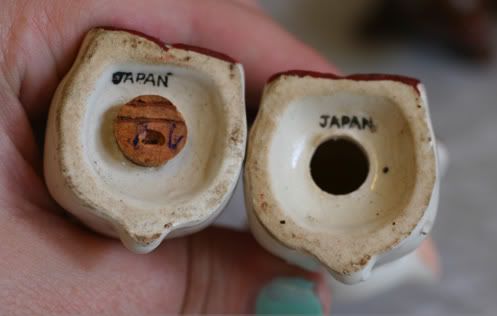 made in japan and cork bottoms will almost always guarantee a vintage find.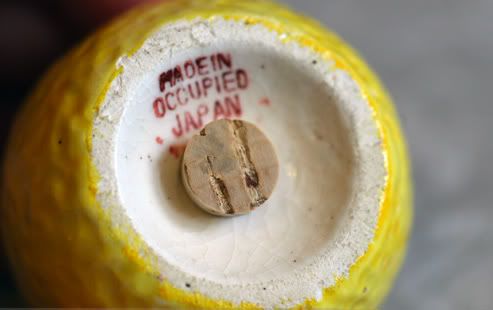 occupied japan is even better.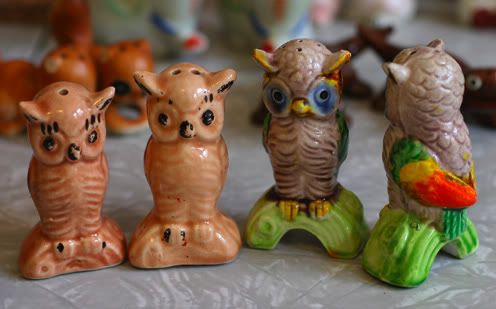 i don't look for valuable/rare stuff, i just pick up stuff that i like. like these little owls painted like parrots. i usually only like to pay a few dollars a set as well. you can find all kinds of cute sets at antique malls. i don't find many good ones at thrifts or estate sales
you don't have to pass up a shaker just because its mate is missing. just make a cute new set. i loved that cat, and the donkey just kills me. what a sweet pair they make!
another gift from a friend. i love that they are obviously squirrels (check on the acorns in their hands) but they were painted like skunks, with halloween cat eyes! i actually saw these a few times at a favorite antique mall but always resisted. then i got them for christmas! perfect!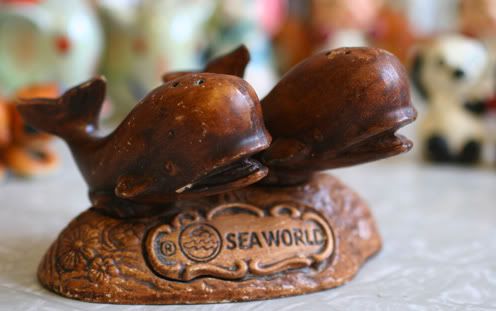 i love vacation/tourist sets too! i have a few from florida.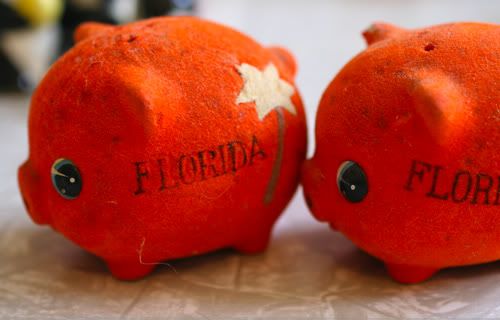 orange flocked pigs with magic wands make you think of florida right? so that is part of my collection! i think we have around 30 sets. we display them on little house shaped shelves in the "cat hall" (where the litter boxes are) very glamourous. if you like salt and pepper shakers, and find yourself in gatlinburg, tennessee, definitely check out the salt and pepper shaker museum. there are THOUSANDS of vintage shakers all arranged by theme. a whole huge case of food! and holiday! and travel! and owls! we will definitely be back on our gatlinburg trip this fall.